---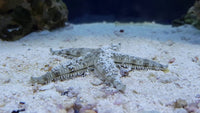 The Sand Sifting Sea Star, at first glance, seems to be drably colored like most bottom dwellers. But closer inspection reveals a striking beauty and serenity to the alternating bands of brown and beige that dress this invertebrate's thick, spine-covered arms. Like other starfish, 
Astropecten polycanthus
 efficiently 
consumes mass amounts of detritus and uneaten foods
.