---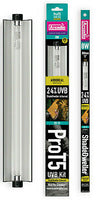 SHADEDWELLERPRO-ARBOREAL
The ideal solution for providing gentle full-spectrum+UV-B lighting for arboreal and climbing species living within enclosures where planting/decoration is provided directly up to the mesh and within those that do not use heavy planting.
The Arcadia Reptile 8w 12"/30cm ProT5 fitting is used and loved by thousands of keepers all over the globe, it is sleek, stylish, robust, easy to use and allows easy linking of further ProT5 fitting and JungleDawn LEDBAR.
ShadeDweller ProT5 Kit is a sleek, attractive, highly versatile and dedicated UV-B lighting kit with the needs of modern reptile keeping at its heart.
ShadeDweller ProT5 is equipped with a highly functional but removable curved reflector that ensures a UV rich basking area directly beneath the unit.
ShadeDwellerPro-Arboreal, SO-T5 (Standard Output) Lamp, high quality German made
Connect up to 10 units
Versatile and easy to use unit, perfect for shallow vivariums.
COMPLETELIGHTING KIT