---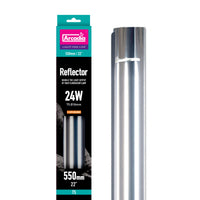 Arcadia T5 Light Reflector 24W/39W/54W
This Arcadia lamp reflectors work by directing T5 lighting back into the aquarium to ensure that optimum lighting levels are offered to all of your fish and other aquariums inhabitants – a critical factor in their health and development. The reflectors are easy to set up and ideal for all aquarium hobbyists – beginner or experienced. Maximum light reflection can be achieved by simply positioning the reflector behind the lamp.
The Arcadia T5 Reflector benefits from a strong and ultra-robust aluminum body which is easy to clean and corrosion-resistant. The lamp is supplied with lighting clips, designed to lock into the reflector and clip onto T5 lighting tubes effortlessly. These special light reflector lamps can be used with all 16mm diameter T5 lights.
The Arcadia T5 Reflector ensures that no light is lost, instead ensuring that the light is reflected back inside the aquarium to increase lighting levels for fish and corals, whilst adding to the beauty of your tank. 
Installation: Fix clips to reflector, using screw through slots provided and attach to lamp. Can also be adjusted to produce perfect angle for the aquarium
At a Glance;
Power: 24w
Length: 550mm
Power: 39w
Length: 850mm
Power: 54w
Length: 1150mm
Easy to clean
Corrosion resistant
Fits most standard hoods and batten fittings.
Sturdy aluminum design.
1 per pack.
Reflects all light back into the tank
Optimum lighting levels for fish, reptiles and plants
can be used with all 16mm diameter T5 lights
Positions behind your lighting lamp effortlessly