---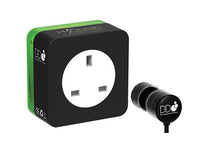 Introduction
H2Ocean Skimmer Guardian
The Skimmer Guardian uses a optical sensor with a magnetic mount. The magnetically coupled sensor makes it easy to install and adjust to the desired level on the collection cup. The sensor is mounted externally so no holes are required in the collection cup for installation.
If the level in the cup reaches the sensor, the Skimmer Guardian will shut down the skimmer pump immediately to prevent your cup overflowing. A built in auto time delay also prevents false alarm due to power outages. Once the skimmer cup is drained the Skimmer Guardian will restart the pump.
Features
• Automatically guards your protein skimmer from overfilling
• Easy installation with magnetic attachment of optical sensor.
• Fits 99% of skimmers without any modifications.
• Latching sensor – automatically restarts when cup is emptied.
• Optical and audible alarm.
Specification
• Power input/output 100-240 VAC
• Max output power 2200w 
• Max sensor mounting thickness 8mm
• 3m Sensor cable
Easy installation