---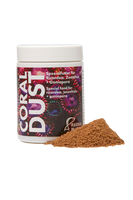 Special food for Ricordeas, Zoanthus, Discosomas and small polyp LPS corals. (former: Ricordea / Zoanthus Food)
Natural food particles for keeping colorful Ric´s and Zoas, Discosoma and small polyp corals like Goniopora and others.
Dosing:
Add 1/4 tsp with Aquarium water mix it and dose this ammount for a 50 gal. tank. Do not overdose !
When starting out, we recommend that you use less and see the reaction of the corals.
You can use a syringe for direct feeding.
Additives per kg:
Vitamins
Vitamin D3 (E671) 1000 I.E.
Trace Elements
(E1) 45mg
Iron-Sulfate:monohydrate
(E2) 2mg
Calciumjodate
(E4) 6mg
Coppersulfate-penta-hydrate
(E5) 17mg
Manganese-sulfate-monohydrate
(E6) 112mg
Zinc-sulfate-monohydrate
Antioxididants: 280mg
other European additives
Ingredients:
Plancton, Fish/shrimp and Fishbyproducts,
Oil, marine Lipids, Algea 5 % , marine Proteins, Biopolymers.
Protein/Protein  68 %
Kohlenhydrate/Carbohydrates 8 %
Marine Öle/marine Lipids 22 %
Spurenelemente/Trace Elements
BioPolymere/marine Biopolymers
For Aquarium use only!