---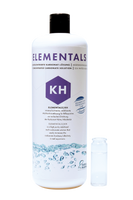 20 ml Elementals KH per 100 l (26 US/gal) will increase the alkalinity by 1 dKH.
Max. daily dose: + 2 dkH (0.7 meq/L)
Please make all changes to the aquarium slowly and carefully!
The recommended dKH value is 6 – 9 dKH. C
heck your alkalinity with the Fauna Marin KH Test kit and calculate your reef's carbonate hardness consumption using the AquaCalculator: www.aquacalculator.com
STORAGE:
Always keep closed after opening. Store dark at room temperature.
SAFETY NOTICE:
Product intended for aquarium use only!
Keep away from children! Do not swallow!
Not suitable for consumption or pet food.
In case of skin or eye contact, rinse with plenty of water.