---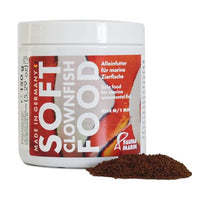 Fauna Marin Soft Clownfish Food for the perfect coloration and growth of all clownfish and damsels in reef tanks.
Soft Clownfish Food: Complete feed for coral fish.
Soft granular food made especially for clownfish and damsels.
Made in Germany with the best natural ingredients for optimal color and vitality.
FEEDING RECOMMENDATION: Feed small portions several times per day.
Granule Sizes: "M": 1 mm, "L": 1,8 mm
INGREDIENTS: Whole fish and fish by-products, molluscs and crustaceans, oils and fats, algae, yeast.
ADDITIVES per kg: Vitamin D3 (E671), 600 i.e. TRACE ELEMENTS: Iron sulfate monohydrate (E1) 50 mg, Calcium iodate, anhydrous (E2) 2.2 mg, Copper sulfate pentahydrate (E4) 6 mg, Manganese sulfate monohydrate (E5) 17 mg, Zinc sulfate monohydrate (E6) 120 mg. ANTIOXIDANTS: 57 mg.
RAW INGREDIENTS: protein 60%, fat 14%, fiber 1%, ash 9%.
DISCLAIMER: Use only for feeding ornamental fish