---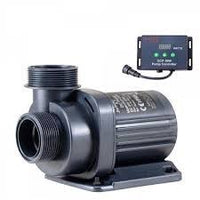 JEBAO DCP-4000
Jebao DCP-4000 is a 4000 LPH pump for freshwater and marine aquarium, suitable for underwater (wet submerged) and dry (outside water) applications.
Jebao DCP pumps give you enhanced performance and precise control of flow through your aquarium reactors, sump, or closed loop system.
With complete control through the DCP Controller, you can control the flow of the pump, enter feed modes (10 minutes).
FEATURES
Wet and Dry use
Freshwater and Marine aquarium
Super quiet operation
Sine wave technology
Programmable auto power off
Wear resistant ceramic shaft ensures longer operation life
Motor protection if the rotor is blocked
High performance motor with high-grade components
Improved from the DCT model
Energy saving up to 50% than the old model
TECHNICAL SPECIFICATIONS
| | MODEL | FLOWRATE | HMAX (M) | SIZE(LXBXH)MM | WATTS | ADJ. RATING | PIPING SIZE |
| --- | --- | --- | --- | --- | --- | --- | --- |
| | DCP4000 | 4000 LPH | 3.5 | 196x104x163 | 40 | 65%-100% | 25/32/40 |
| | DCP5000 | 5500 LPH | 4 | 196x104x163 | 50 | 65%-100% | 25/32/40 |
| | DCP6500 | 6500 LPH | 4.5 | 196x104xx163 | 55 | 65%-100% | 25/32/40 |
| | DCP8000 | 8000 LPH | 5.2 | 196x104x163 | 65 | 65%-100% | 25/32/40 |
| | DCP10000 | 10000 LPH | 6 | 196x104x163 | 80 | 65%-100% | 25/32/40 |
| | DCP18000 | 18000 LPH | 9 | 196x163x163 | 130 | 65%-100% | 32/40/50 |