---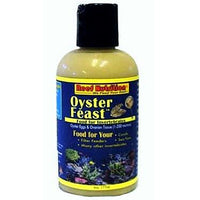 Oyster Feast is a refrigerated liquid concentrate of oyster eggs and ovarian tissue and is the perfect size (1-200 microns) for feeding corals, SPS, LPS and softies.

Each 177ml bottle contains 2 full oysters!
Naturally size-appropriate for feeding SPS and LPS corals 
Highly suitable for a broad range of corals and other invertebrates 
Fast coral feeding response 
High in protein and Omega-3 fatty acids 
Stays in suspension 
Overain tissue has all the benefits and nutritional value of the eggs but in a smaller particle size, down to 1 micron.

Guaranteed Analysis:
Crude Protein (min): 2.4% 
Crude Fat (min): 0.4% 
Crude Fiber (max): 0.1% 
Moisture (max): 91.0% 
Additional Guarantees:
20% Oyster gonad and eggs 
DHA (% of fat): 6.5% 
EPA (% of fat): 6.0% 
Ingredients:
Seawater, Oyster Ovarian Tissue, Oyster eggs, Citric Acid, Ascorbic Acid, Potassium Carbonate, Sodium Alginate, Potassium Bicarbonate

Reef Nutrition is a product from Reef Mariculture, USA.